Commercial
Garage Door Openers
Commercial doors can be created from any of our commercial or residential choices. Aluminum and Glass, Rolling Steel or any of the standard residential choices.
Steel Sectional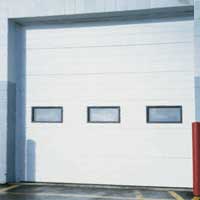 The most popular and economical choice, these doors will improve the curb appeal of any business while providing a windproof, insulated and secure opening. Operate by hand or chain hoist. A variety of windows can be added for natural light or for visibility. Available in white but can be painted very easily.
Full View Aluminium & Glass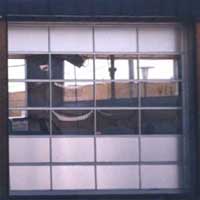 Your typical dealership door. The high strength of aluminum for narrow rails and stiles which makes for large glass sections. A variety of finishes give different looks from custom colour, mill finish or anodized.
Rolling Steel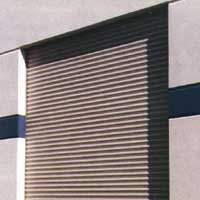 The cadillac of commercial doors. Low maintenance and long lasting, these unique doors roll up into a berrel above the opening. The curtain is made up of 2" or 3" slats which are very secure and resist wind pressure. Available from 3' x 6' to 30' x 20' sizes. Insulated or non-insulated.
Wood Sectional
The traditional style of commercial door. These come in a flush wood insulated version which can be stained or painted. Rail and Stile also with m-ply panels or specify your choice. Usually painted and easily adapted to glass sections.